Last Updated on March 11, 2019 by Jay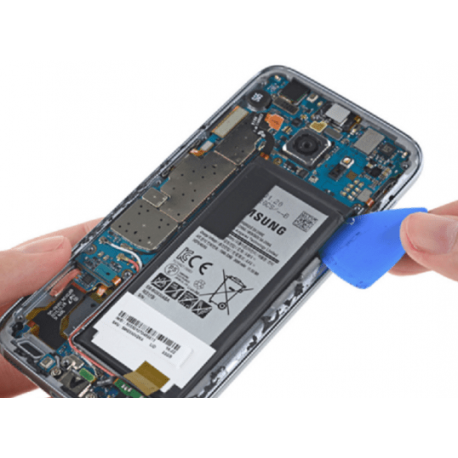 As a society, it is pretty safe to say that we all love our smartphones. They provide us with constant entertainment and the ability to communicate wherever we are. Today, living without our phones can be a real hassle.
Probably one of the most hindering qualities of our phones is the battery life. It can be awfully frustrating when the batteries in our beloved phones begin to degrade. We then have no choice but to leave them hooked up to their chargers.
The Samsung Galaxy S7 showed up for sale in March 2016. It boasted wireless charging capabilities, a waterproof design, bigger screen, and high-quality camera. Although these devices took the market by storm, they do have one big problem: their batteries aren't removable. What are we to do if the original batteries begin to fail us?
What to Know About Samsung Galaxy S7 Battery Life
The Samsung Galaxy S7 emerged on the market with a 300 mAh battery, which is able to be fully charged up in an impressive 88 minutes. According to Phone Arena's proprietary test, the S7 has a battery life of 6 hours and 37 minutes, which is pretty average.
One of the unfortunate downfalls of the S7 is that the battery is not removable like previous Samsung models. This makes the replacement of a flawed battery considerably difficult, especially due to its waterproof design.
The adhesive around the device protects from water damage even if it gets into any crevices, giving the S7 the ability to be completely submerged underwater. To achieve this, the openable backing of previous Samsung models had to be secured shut, leaving no easy access to the battery.
How to Replace The Battery on a Samsung Galaxy S7
Although you are able to replace the battery, we recommend going to a professional to do so if you aren't sure what you are doing. Fixing this problem requires delicacy and a few tools that you may not have at your disposal.
Samsung Customer Service:
Sending your phone directly to Samsung would be the easiest option, but not the most convenient. If you want Samsung to fix your battery, you have to send it in by mail and must then live without your phone for days at a time.
Try it Yourself:
Because of its waterproof design, the S7 has a useful adhesive that protects it from invasive liquids. That being said, it will be more difficult to crack open than other models.
We've listed the items that you will need for this project below:
Suction Cup or Handle
Heat gun or heat plate
Phillips head screwdriver
Opening picks
Tweezers
Spunger
Caution: Before you begin this replacement process, let your phone battery drop below 25%. If you accidentally puncture the faulty battery during removal, it can explode or start a fire.
Directions for Replacing the S7 Battery
Step 1:
Turn off your S7.
Step 2:
Remove the SIM card tray.
Step 3:
Place your suction cup/handle on the back of the device.
Step 4:
Using your heat gun/plate, apply heat to the back of your device to soften the waterproof
adhesive around the edges.
Step 5:
Pull up on the suction cup/handle, which the back of your device should be plunged to. You may have to use the picks to get through the remaining adhesive. Caution: The rear glass can break if you apply too much pressure or use excessive force.
Step 6:
When the cover has been safely removed, use your Phillips head screwdriver to remove all twelve 3.5 mm screws.
Step 7:
Wedge the tip of the spudger into the top left notch of the antenna assembly. Use it to pry the housing assembly up from the frame and set it aside.
Step 8:
Use the flat edge of the spudger to remove the charging coil, then the loudspeaker assembly from the device. You should now be able to clearly see the battery.
Step 9:
To remove the battery from the device, you have to first disconnect the battery flex cable. Use the flat end of your spudger for this task.
Step 10:
Now you will need to soften the adhesive that is holding the battery in place. To do this, use your heat gun/plate to heat the screen of your S7.
Step 11:
Once the adhesive is loose, use your spudger or pick to lift the faulty battery from your device. Be very careful that you don't puncture the battery because it could begin to leak dangerous chemicals.
Step 12:
After the faulty battery is removed, replace it with the new battery.
Step 13:
To put your S7 back together, just follow the directions in reverse order, from 7-1.
Conclusion
This replacement process can be challenging and time-consuming for many S7 users, so taking your device to a professional is the way to go if you don't have the proper tools. If you don't, Samsung Customer Service is a great option to have if you don't need your S7 on a daily basis.
All of our smartphones will inevitably lose their battery life over time and we know how frustrating it can be to always have your phone running out of power. We hope that this article will help you choose the best option when it comes to making a decision on how to replace your phone's battery.
Latest posts by The Lucky Stiff
(see all)