Toogle In 35 Lines #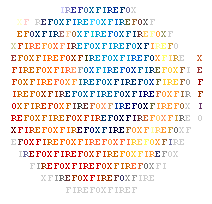 Premshree has written a Toogle-alike in 35 lines of Ruby. There's some very succinct PHP in the comments as well. My heart can't take these LoC battles any more, so let's just link this one as a "oh, that's how you use GD in Ruby" sort of deal.
I'd like to see somebody take this apart. Fascinating.
And so. Flickr for Ruby by Premshree. Now let's see an ASCII Flickr, huh? Tlickr. Naw, I'll lay off now.