65 Across: Julian Date of Ruby Inception #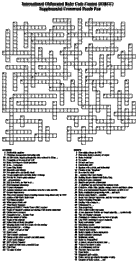 Another indication of how much lore and trivia surrounds our Little Red Culture, let us now visit Todd Nathan's supplemental crossword puzzle for this year's obfuscation contest.
A few favorite clues:
13 Down. In a class by itself
9 Down. Spoken with twist, and influential
33 Across. Host language laboratory
75 Down. Slippered girl's canine
And 25 Across is for all o' you. Nicely done, Todd. I'm gonna print this out and do it with my grandma later.