Ruby Comes to Artist in a Dream, Comforts Him for Thirty Years #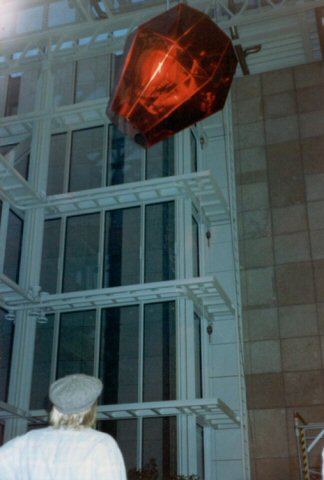 Pictured at left, "I Dreamed I Found A Red Ruby," an installation in Bazel, Switzerland, by Jonathan Borofsky. This artist does a number of works focused on the Ruby, incident to certain dreams:
One project I'm involved with now in Grand Rapids, Mich., does use a symbol, a ruby, in a rather grand fashion outdoors. Lit from within as part of a sculpture that's 75 feet high. This is a ruby that came to me in a dream early on, maybe '75. I remember it feeling and being like my heart—a beautiful stone the size of my heart.
That symbol was quite often used in my installations and even now, [26] years later. That symbol was so positive, so spiritually tuned and so beautiful. It helped to balance out a lot of the fearful dreams that I was having—being chased through a city street or whatever.
Also of interest: Man With Briefcase standing in Minneapolis, Minnesota. And perhaps: Man With Heart. Spooky.