Elizabeth's How to Think... With Ruby #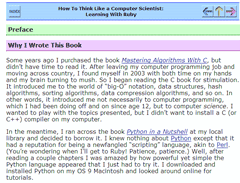 Okayyy. So, I really thought our free books were in decline. But what's this? Elizabeth Wiethoff started a book back during the summer titled How To Think Like a Computer Scientist: Learning With Ruby. (She translating from the Java one.) I checked del.icio.us and only one person knew about it.
She's only three chapters deep, but a lot of the code is there. One thing about this book: if you're precocious, I'm sure you could help her translate some chapters. I mean there's already some blank bullets for you on the contrib page.