If You Buy One Crossstitch This Year #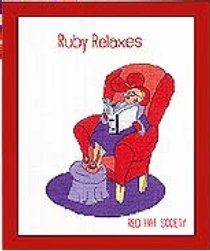 Twelve dollar kit from The Red Hat Society. An unbelievable array of unintentional pun crossover for fans of ruby-1.8.2-28.i386.rpm who frost their hair.
Naturally, the kit's default slogan—"Ruby Relaxes"—could be replaced. Try "Ruby Cracks My Back" or "After an Evening of REXML, I Am Putty in the Palm of My Sturdy, Red Easychair." Also see: I Shall Wear Purple and Red.