Junebug: A Nice Little Wiki, What Can I Say #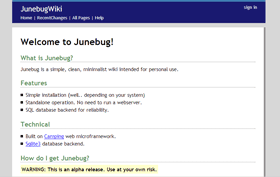 Instiki has long been the incumbent on the Ruby wiki scene, though many Ruby wiki scenesters have been made to feel sad and downtrodded by the lack of any recent news. So, along comes Junebug, an x-small wiki backed by Camping and SQLite3.
One thing I really like about Junebug is that it creates a folder with your complete wiki contents in it—the database, the images, even the script to start and stop it. A lib directory as well, for plugins and, possibly, working versions of all the dependencies.