Open Source Conference 2005 At Tokyo #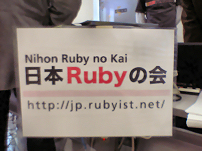 Open Source Conference 2005 was hold at Mar 25-26 here in Tokyo. There were two sessions about Ruby at the following day. We kept uploading live JPEG snapshots to share the atmosphere. Sorry we could not say earlier (I didn't know Sasada-san had such a plan).
About 100 people joined the sessions. Takahashi-san, Sasada-san, Stoyan and Kazuhiko-san talked about Ruby on Rails, YARV and Hiki which is a Wiki clone written by Ruby. Matz also chatted with Skype call from his home and answered questions from the audience.
Look at the two minutes movie here [Windows Media Player]. Please download the file and watch from your local storage.