Redesign 2005, Round One #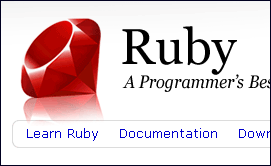 So, we have some designs for you. After two weeks of designing and remixing the current ruby-lang.org, our four-man team has put up the new Redesign 2005 Blog with two gorgeous designs by John W. Long and Michel Martens. We're going to take some feedback and then duck back down into our foxhole and plow away again.
While Ben Giddings and I don't have the pixel wizardry of John and Michel, our effect is present in these designs. Especially Ben, who was a constant source of structural ideas. I've really had a great time working on this. Can't wait to see where we are in another few weeks.