Ruby + e17 #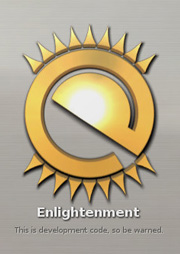 Forget Kapsules. I mean Kapsules is neat and I don't regret posting about it—absolutely not—how could I? I uphold the original decision to do so. But imagine my paleness, the powerfright, when I saw the Ruby-EFL bindings. My allegiance to enlightenment is truer.
I've been compiling e17 from CVS weekly. It's lookin sly. If you want to give it a try, I'd highly suggest the Unofficial DR17 docs.
The Ruby-EFL bindings give you hooks into e's internals. Meaning you can write little apps and widgets for e. Over the next few weeks, I'm gonna drop some Ruby scripts I've been using with e16 and e17.