Ruby.org Mockup #
On Ruby-Talk, there's been some discussion about working on a simple, friendly Ruby portal for new users. I think Ruby-Lang is pretty good actually (and has come a long way since NaHi redesigned as seen in the comments, NaHi did not redesign, he simply announced).
Still, after Ben Giddings mentioned the plausibility of negotiating ownership of Ruby.org or Ruby.net, I couldn't let the idea go. Something like this: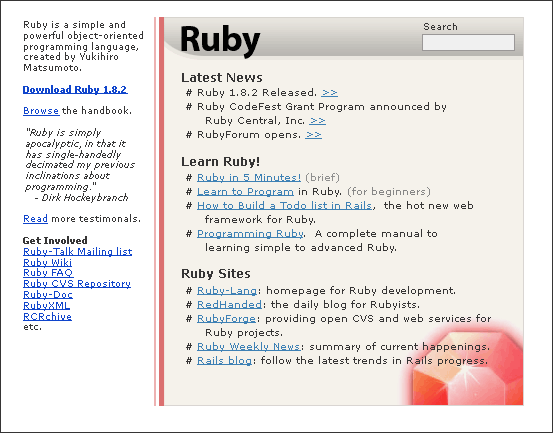 Three things I like in this shot:
Current sites are given preference. The links in the main body must all be active, current sites. No old docs. No old news. The featured news would require maybe 2 or 3 updates a month. This would be very simple.
Rails is on the front page. Rails is a hot topic. The front page needs to reflect the most interesting aspects of Ruby to visitors.
Ruby in 5 minutes. It would be great if we could pool together a simple summary of Ruby. A five-page, one-minute-per-page summary, similar to YAML in Five Minutes. If someone reads a short article on Ruby, they may start wanting to read more. ("I've read for five minutes, but I have some time, so why don't I just spend the evening learning about this language?")
I think Ruby has plenty of libraries. We could use more, but we have great libraries that a lot of communities don't have. I think we could use better docs. Something closer to PHP or Python. This will happen, though. We have the content in RDoc, it just has to be organized.
We just need a web presence that is kept current. Most Ruby sites age several months without update.
I'd also love to emphasize using Ruby with C. Ruby's C API is brilliant. It's so fantasically elegant when compared to other scripting interfaces. I think an extensions section would be really attractive as well.