The Ruby Mix Tape, Day One #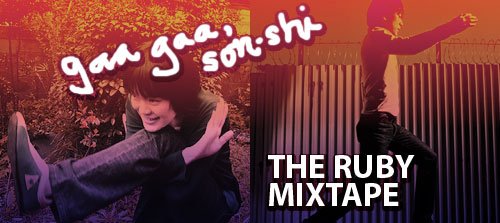 Enough coding already. Let's put it to work. Get out flgr's six-line p2p and point it at druby://redhanded.hobix.com:4114. The password is mixtape. Download all mp3s. Each day this week, we're blogging two songs with any slight relevance. (Whilst steering clear of certain UB40 and Chris De Burgh.)
Today I bring you two songs which share a birthplace with Ruby.
Kazumi Nikaidoh "Pulsation"
If there's one Japanese artist I can recommend, here she is. I heard her voice and wandered into a building and there she was, teetering around the stage, strumming her guitar, tilting her head, singing off into the ceiling, high notes like a powdered mouse, low notes like a vampire's cloud. The closest my spinal cord's ever gotten to being plugged straight into a wall socket.
Her songs are Ruby. The loose structure, the voices up and down. Her album has two really cool videos. One's her wandering around a zoo and the other is a science project. Both on her album You Dropped Something Again, Didn't You?, which looks to be still available. 2,100 yen only.
Cornelius "New Music Machine"
This song is the moment Ruby clicks and your mind opens to all the little proggies you're going to write in the next ten, twenty, fifty years. Your brain says, "Oh, wow, I'm on the edge! I'm blurting thoughts in a futuristic language!" And you're reading source code for drb or Ruby/X11 and all the ghosts from Pac-Man are gathered on your nose cheering, having pixel pizza. Go, little, nuby! Go!
From his album Fantasma, available basically anywhere.
Hey, if anyone out there gets a hankering to run a server, post it here in the comments, willya? And that's how friendship pours through the streets and villages of Rubyland.