The Ruby Mix Tape, Day Two #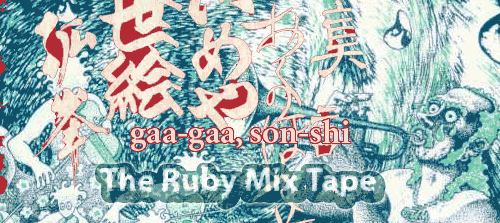 Hang in there on the drb. And I'd suggest just getting only 0[34]*.mp3 today, wouldn't you say so?
Today's songs are tinted.
Frank Black "Big Red"
Most people who wrote a song about terraforming Mars would write something like "Oh, we're going to terraform Mars / Hi-Ho / Yeah, we're gonna colonize the place / Sha-na."
However, Frank Black really does want to terraform Mars. He's thought about it. He's got this picture in his head.
They got a mule they call sal
Bulldozing up canal walls
They're gonna tap that icecap too
When they do they're gonna make that green map blue
A red song. A space song. And the idea of Ruby on Mars—well, come on now!!
Gorky's Zygotic Mynci "Y Fford Oren"
The title of this song is Welsh for "The Orange Way." Which is a psychedelic variation of The Ruby Way. The song is just that.
Why do we do what we do? How do we think the way we do? Huh, what ya doing? Oh, I don't know, can't say—it's The Orange Way. Do I really have to explain it up here inside your ears with these searing guitars??