Very Rare, Very Son-shi #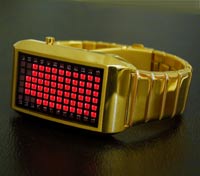 I'm bent on accessorizing you folks. Out there. All you good folks who come here all the time. All you people. Random people from around the world. People from all walks of life: housemoms, personal trainers, cobblers, detectives. Probably a few really, really famous people. Maybe Toby Macguire's out there reading this. Maybe Sporty Spice. Definitely Taye Diggs.
Okay, look, I don't care if no one's reading. Fine. A-OK. It's winter, it's probly foggy outside, you probly lack the means to pull up RedHanded from your neck of the woods. Actually, I'll bet you're having a real life crisis. Your neck is caught in a bear's hand. Your mom is stuck in the dishwasher. She's just in there sitting on the rack and her head is in there, too. Whimpering, pathetic.
Well, you can't do anything about that. You gotta let her be, let her figure it out. This test is hers. To see if she can survive. You're cheating evolution if you help her. If she doesn't make it, don't say, "Oh, I should have helped her, I should have gone in after." No way, not a chance. She was weak. The human race is collectively emerging from the dishwasher now that she's gone. Scouring pots and pans into perfect, bright orbs.
So, this watch. Check that out. What I need to find is a red laser that I can plant in the back of my throat. That would be cool for when I open my mouth for a presentation.