Wonderfully Desolate #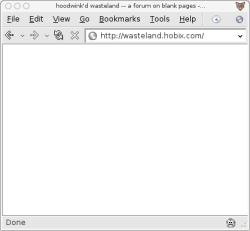 Part of hoodwink.d is moving above ground. Namely, the new forum: Wasteland. This forum will revolutionize blank HTML.
See, as rewriting the web catches on, we're really going to be glad for blank pages. If you don't want to use Wasteland as a forum, please be my guest and use Greasemonkey/MouseHole/et al. to build a videoblogging service in its place.