Here is MouseHole 1.2 #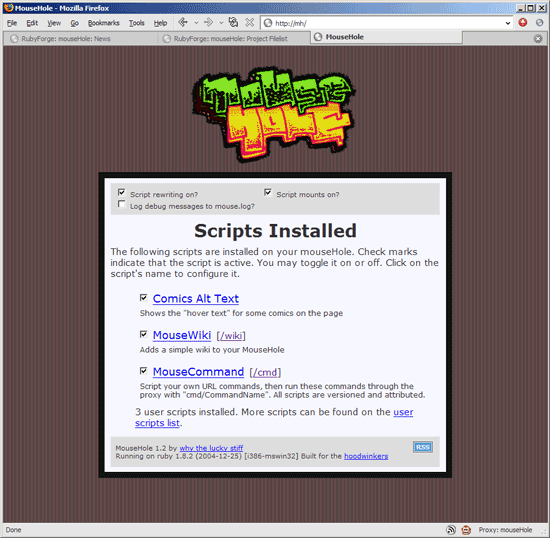 Here, you remember MouseHole. We all came up with it on this thread. And then, a month ago we started playing with the Hoodlum proxy. Finally, here is the release that combines Ryan's gzip code from WonderLand and MenTaL's Greasemonkey code and all the input from covert mice, where'er they are. The software was sired by a blog.
My favorite feature of MouseHole 1.2 is the support for intercepting hosts. For example, if you're running MH as your proxy, you can type http://mh/ into the URL bar to get to the doorway. Or mouse.hole.
Mounted scripts can be travelled to using mouse.mount. So, for MouseWiki: mouse.wiki. For MouseCommand: mouse.cmd.
Plenty of other features, though. An RSS feed of your installed scripts (perfect for Firefox's LiveBookmark), faster HTML cleaning, improved interface for URL matches. Best of all, a new register_uri method for scripts that want to safely allow cross-site Ajax stuff on certain domains.