Keep in Mind the Morse Code Revival #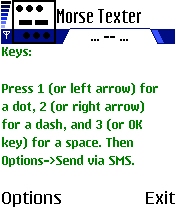 I guess the Morse v. SMS wars are escalating! Screenshot to your left (my right) is a new app for Nokia Series 60 phones which lets you tap in Morse in lieu of T9 or full keying of SMS messages. So does this mean Nokia will make good on their Morse Code-generating cellphone patent?
If you have yet to learn, Ward Cunningham has an instructor tool. Just remember that netspeak and morsespeak are totally different dialects. HIHI is laughter. PSE is please. If you drop a ROFL, I can assure you that visors will flip.
73, _why. (Seen on del.icio.us/popular.)