The Ruby Mix Tape, Day Three #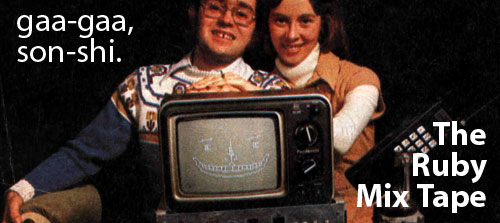 I am making you guys cool! Except all today's music is dorky. For computer nerds. Bummer.
Kid606 "Catstep / My Kitten / Catnip-Vatst"
Okay, so, hyperactive raver nerds. Hopping on the keyboards with pacifiers and bracelets and all that. And this is the computer singing astride that cat crawling back behind the monitor.
I just like where the computer goes to sing up high and it goes zhi-i-yipp!
Ratatat "Desert Eagle"
And these are the nerds who are still playing Contra on emulators or watching episodes of Arena, wherein Jim Kirk and the Gorn return to animalian instincts and brute manual fistclubbing.
It's the music on Atari when California Games starts and a rainbow test pattern shows up behind the palm trees.
Hey, for connection details, see the very opening paragraph of Day One. The whole drb script you're going to need so bad.