May 3rd 19:27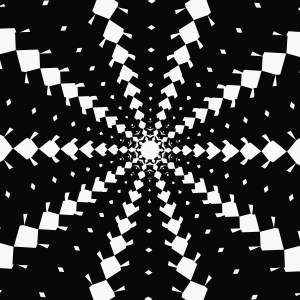 Let's all agree to be proponents of NodeBox. Here, I'll start. I call this Star Crash Get Out of The Way, Deirdre.
# Setup the field
size(500, 700)
green = color(0.9, 0.9, 0.6)
black = color(0, 0, 0)
fill(green)
rect(0, 0, 500, 700)
# Stars big and arrows not as big
for i in range(0, 40):
  skew(random(4.0, 20.0), random(4.0, 20.0))
  fill(black)
  star(random(500), random(700), random(5, 100))
  fill(green)
  arrow(random(500), random(700), random(1, 100))

Like LOGO, it's purely artware. But rather than just shapes, you get Bezier curves and typography. The gallery is full of gorgeous stuff, many come with source code.
NodeBox is for Mac platforms and scripts are written in Python.
I see alot of strengths in NodeBox: it has a very complete manual (and the manual isn't that long,) lines and shapes are beautifully antialiased, gradients are smooth. A good name, a great icon. These are important things! It's so rare to find lovely programming tools.
You basically have a very simple window with boxes for editing, running and debugging scripts. I'm curious why they didn't label the different areas or add some toolbar buttons to switch between them. I think this would go a long way with the newbs!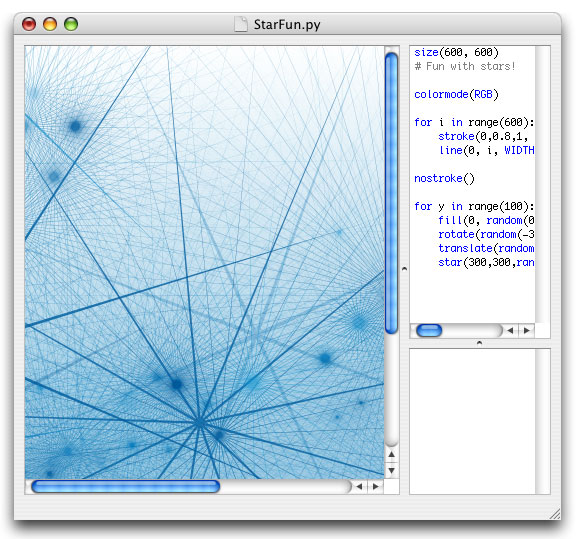 Lots of math in NodeBox. Mostly simple math: plus, times, minus. But some geometry. A good way to learn geometry.
One thing about NodeBox that helps soften the math pains, though: you're mostly going to be throwing numbers and shapes together to see what kinds of patterns you can come up with. So, if you're going to start off, just plug random numbers in! Or start with the code in the sample and flip the numbers up one at a time and watch things change.
The tutorial is very good, with lots of pictures, but feels too long. The page on variables could be cut in a quarter. And if they could work out an interactive tutorial (in that third debugging window perhaps,) well, that would really make NodeBox a great starter program for young kids.