May 12th 17:41
I left out a contender in the gooey post.

  | w b |
  b := Button label: 'Press me' function: 
    [Transcript showcr: 'You pressed me'].
  w := SizeableTitleWindow open: 'Demo'.
  w addChild: b.

If you've got Flash installed, you can have this running in just a few seconds.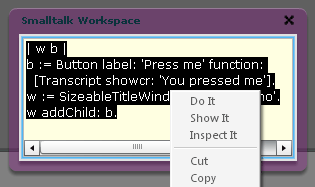 Start Vista Smalltalk.
Right-click the dark grey background.
Select SmalltalkWorkspace.
Copy-and-paste the above code into the white window.
Ctrl+A to select all the text.
Right-click the text and select Do It.
Vista Smalltalk is incredibly precocious and capable. And yet, lots of things have changed and I couldn't get hardly anything working from the tutorial. Instead of improving his tutorial and docs, the creator (Peter Fisk) is porting everything to the DLR. Uhm? Now I understand why all of you get so mad at me.
One really fascinating thing about this whole thing: the creator actually has a symmetric lisp dialect that corresponds to Smalltalk. So the prelude is basically all written in lisp. And kept in memory as sexp.
---
And… yet… all this for Vista??
(from the overview): Vista is just part of a much larger architectural change in how Microsoft applications will be written and deployed. The Smalltalk language is ideally suited for the enhanced application connectivity that these new architectures will allow. Vista Smalltalk runs in Internet Explorer 7 as well as on the Windows Vista desktop and is designed to be fully compatible with the .Net framework including future (WPF/E) cross-platform implementations.
Runs pretty well in Flash and Firefox for me!!