June 9th 16:48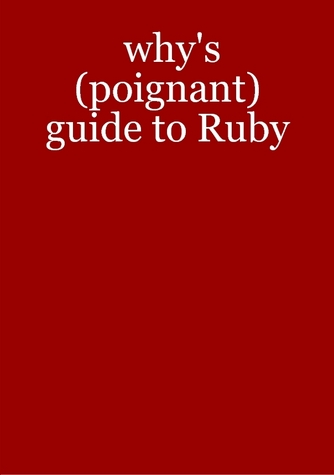 Well well well! Here we go. Finally! I have waited so long for this.
Someone (and I haven't the foggiest who) is selling Why's (Poignant) Guide to Ruby on Lulu. The book is sold here and it's a really, really bad deal. Thirty bucks for the paperback and ten for the PDF. Which is totally shady because there are lots of good PDFs that folks around the Web have fashioned.
I know your instincts are going to be to try to get this thing shut down. Please don't do that! This shopkeeper is totally within rights to do this.
Anyone (at all) may publish and sell the guide at their own price, of any quality. Even the PDF or HTML or YAML versions. Sure, well, I guess this shop's prices are kind of ridiculous and the cover (at right) isn't anything special. Not to mention that it appears to only go through chapter six, which omits a good twelve pages of illustration. Anyway, that's editorial prerogative. Who knows, it might be better that way.
And, yeah, this isn't that big of a deal, but what makes this special to me though is that someone's put their toe in the water. And I'm standing here, nodding, or clapping, maybe playing the tambourine, maybe smoking turkey-flavored cigars, definitely firing harmless suction cup sticky arrows, and just pleased as punch.
I've got all the hairspray and funny money I need to make a life!
---
Okay, now, as the book nears completion, I see three possible outcomes:
Small presses will print their own editions, which will compete to be faithful to the style of the book. This would be great for readers, as they could choose an edition that best suited them. And I like it because it suggests what you see with reprints of classic literature: that the publishers take on the book because they really love it.
Or, maybe, a large publisher will swoop in and put one out that is of the same shape and mute as every other tech book on the shelf. And, given a large enough publisher, perhaps everyone else will just assume they own the rights. I doubt this will happen since that large publisher will probably be too nervous to publish without my express endorsement. (Not for legal reasons, just because of how things work.)
Or, nothing at all. The book will dwindle and fade into obscurity.
Can you imagine what it's like to write a book and let anyone have it? And, then, to just watch where it goes? The book's fate is truly in the reader's hands. And the outcome is based solely on the book itself. It's like sending off balloons with a note to Iceland.